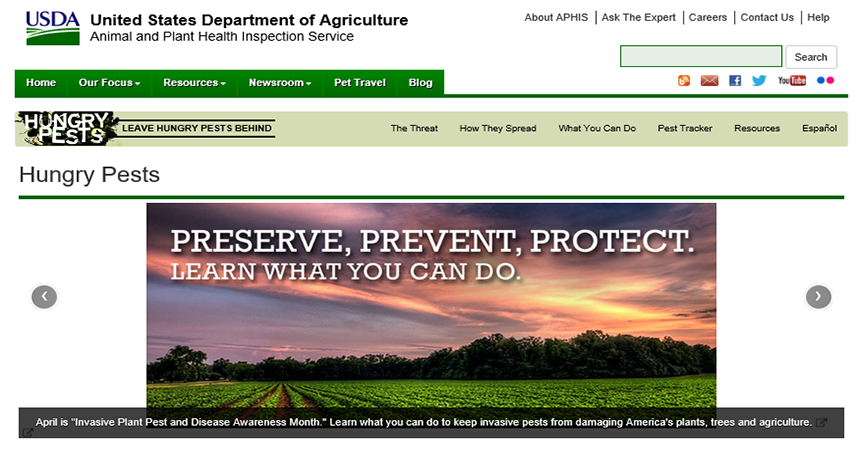 IDaids for Invasive Plant Pest and Disease Awareness Month
Spring has sprung! The weather is warming, which motivates people to make that move to a new place or to take a vacation. But these seemingly harmless activities might actually indirectly harm our environment by spreading invasive pests. So USDA's Secretary Perdue proclaimed April Invasive Plant Pest and Disease Awareness Month, encouraging citizens to actively take part in protecting our natural resources and agriculture by taking steps to restrict the movement of invasive pests caused by human activity.
Taxpayers spend 40 billion dollars annually to mitigate damage from plant pests and pay for management and eradication efforts. And once a pest, disease, or weed becomes established in a region, it can forever change the ecosystem or food available to us. That's why Secretary Perdue has emphasized the importance of public education!
We've gathered this set of IDaids helpful for identifying a few of the destructive pests APHIS considers Hungry Pests! For more information, visit USDA's What You Can Do.
Visit Search IDaids to find identification resources for many more plant pests.
Asian citrus psyllid (Diaphorina citri) is a tiny insect, about the size of a pinhead, that attacks citrus plants and other closely related species in the Rutaceae family (e.g., limeberry, curry leaf, white sapote, etc.). On its own, it's a relatively minor pest, but it can vector the bacteria that causes citrus greening, also known as Huanglongbing, a deadly infection for which there is currently no treatment. What you can do: avoid moving citrus plants, fruits, or plant parts to different areas.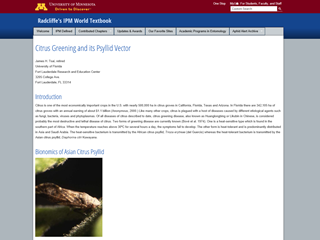 University of Minnesota, United States of America
This chapter in "Radcliffe's IPM World Textbook" discusses the biology and identification of Huanglongbing (HLB) and the disease's psyllid vectors.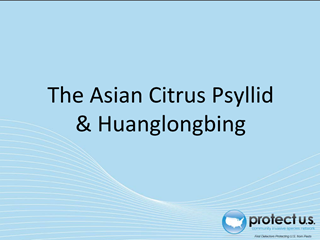 Community Invasive Species Network, United States of America
This PowerPoint includes many useful photos and links, along with useful information. Hover over the speech bubble icon near the upper left corner to see details about each slide (or right-click in some browsers to open all popups).
Khapra beetle (Trogoderma granarium) is a tiny beetle considered one of the most destructive pests of stored grains (its preferred food), seeds, and other agricultural products. Signs to look for include the beetle, larva, or cast skins in dried food products. While it is not believed to be established in the U.S., interceptions have increased at U.S. ports. What you can do: always buy dried food (including dog food) and cereal products through known and reputable retailers, and when returning from abroad, declare all agricultural products at U.S. ports of entry or, better yet, leave these products behind.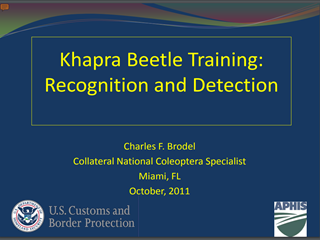 United States Department of Agriculture (USDA)
This PowerPoint focuses on recognizing the pest and includes sections about other beetles that look similar or could be found infesting similar commodities. Hover over the speech bubble icon near the upper left corner to view details for some slides (or right-click in some browsers to open all popups).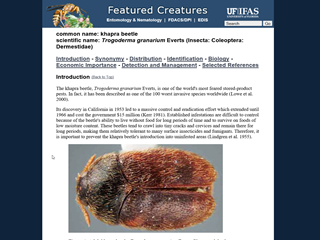 University of Florida, United States of America
This quick reference about the pest includes photos, identification, detection, and biology./p>
Light brown apple moth (Epiphyas postvittana), a relatively small and an opportunistic feeder, has been observed feeding on hundreds of plant species, including many important agricultural crops. A native of Australia, light brown apple moth (LBAM) was first observed in 2006 in California and can also be found in Hawaii. Damage is caused by the caterpillars feeding on leaves, buds, flowers, and fruits. What you can do: females typically lay egg masses on plants, so if you live in a quarantine zone, be aware of the quarantine regulations, refrain from moving plants, produce, or soil in or out of the zone, and allow survey and trapping activities on your land.
United States Department of Agriculture, Identification Technology Program (ITP)
This fact sheet describes adult recognition and larval morphology and features photos of adults, instar larvae, pupa, an egg mass, and damage.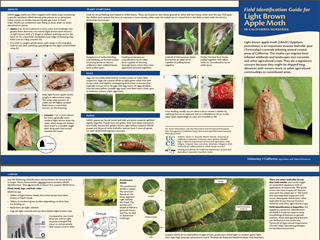 University of California, United States of America
This foldable field guide handout focuses on finding and identifying LBAM. It shows the pest in all life stages, host symptoms, and includes a character table comparing the LBAM caterpillar to other similar-looking caterpillars.